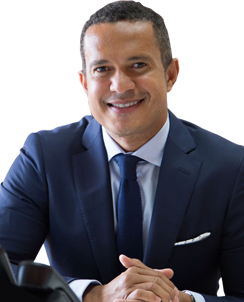 Luc Gerard
Founding Partner - CEO
Founder of Tribeca he counts with a long experience on general management, mergers and acquisitions, business development, and strategic planning.
Luc is founder and main shareholder of Tribeca Asset Management. Before starting Tribeca he held various position at the most senior level in Fortune 500 multinational companies such as Philip Morris, Caterpillar and ING across Latin America, Europe and the United States.

Over his 16 year career he was personally involved in and led transactions for more than USD 2.0 billion. A true citizen of the World he has lived and worked in 11 countries. In 2006, he founded Tribeca, which manages Colombia's first and largest private equity fund.

Luc is recognized for his strategic vision and leadership as well as his community involvement. He advises the Colombian government on Attracting FDI and he is a regular guest speaker in universities and business school around the globe. América Economía magazine awarded him Business Man of the year in 2004, as well as the LatinAmerica Excellence Award in 2008.

Mr. Gerard holds a Bachelor degree in Business Engineering from the Institut Catholique des Hautes Etudes Commerciales - ICHEC Brussels Management School, and earned his MBA from the International Institute for Management Development - IMD in Switzerland.
Back to team

We invest, medium and long term, in companies with a high growth potential, by acquiring all or some of the company's shares. Our team of experienced professionals in areas such as mergers and acquisitions, �turnarounds�, and financial markets, focuses our investments in Colombia and Latin America. Read more about us

Cash flow, branding, professionalism, quality of life, risk, ethics and the environment are characteristics of each one of Tribeca Partners� businesses. Read more about our values